Bollywood (the Mumbai based film industry) superstar, Salman Khan is nearly a household name in India. It might surprise you, but if anyone from India over the age of fifteen years, is not aware of him – that would surprise us.
In fact, he is so popular that after some super successful movie of him, people were bathing his idol with milk – a somewhat religious tradition of India. Well, in this he falls short of South Indian superstar Rajinikanth, who was worshiped at a temple – at least for some time. Still, he is one of the leading superstars of India.
About Salman Khan's real Height
This may not surprise you, but Salman Khan is short, at least in physical stature. But just how short is he, that could surprise you.
Salman Khan himself once claimed to be 5'9.5" (176.5 cm) tall. This claim is really so outlandish that we don't know what to say about it, except, maybe only in his best elevator shoes (smart shoes which contain a left under soles of the shoes which gives you a boost in height).
In the movie, Karan Arjun, Salman looked considerably shorter than Shahrukh Khan, who himself claimed to be 5'10" (fun fact: Shahrukh is not 5'10" either) at that time, but that is another story. In any case, maybe Salman later realized the absurdity of his claim, because soon after this he changed his tone, and downgraded his own height to a still respectable 5'8" (173 cm).
Now that is what is called realistic expectations, but alas, there is still a difference between realistic expectations and reality – which seems to stay away from anything Salman Khan at an arm's length. Check out this photo with some delicious and definitive proof.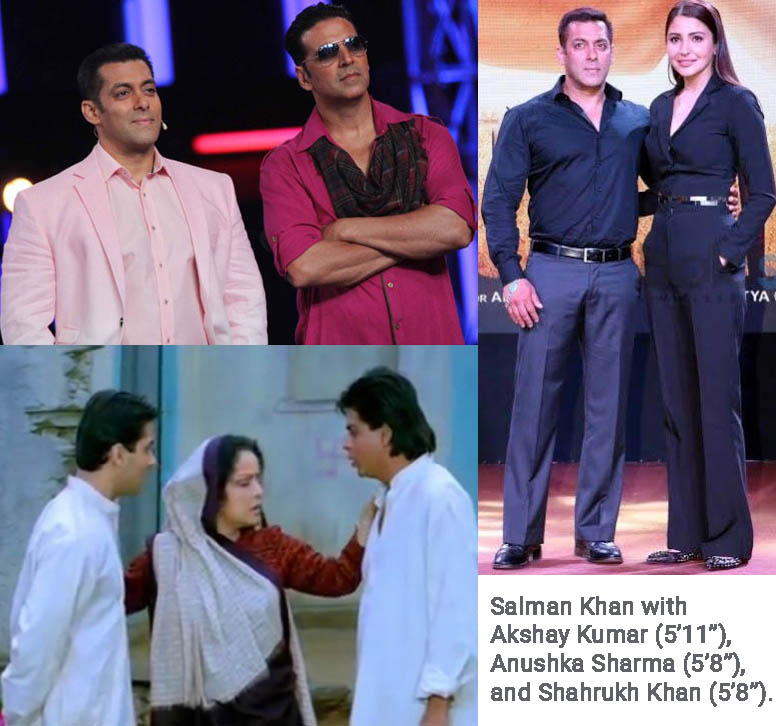 Here he is getting dwarfed by fellow superstars like Akshay Kumar (5'11"), Anushka Sharma (5'8"), even in his thick-soled shoes (in the right image). Now we understand that this rather shocking photos may be due to bad posture, or angle or Shahrukh's bushy hair but for god's sake, Shahrukh only claims to be 5'8" tall now (but seems a bit shorter than that).
Well, you may be getting impatient by now and we too, do not want to stretch this mystery of Salman Khan's real height anymore so here is his real height.
After spending painstaking amount of time, comparing Salman Khan's rather good posture with half of Bollywood, including Akshay Kumar (5'11"), Shahrukh Khan (5'7.5"), Sanjay Dutt (5'11"), Aamir Khan (5'5"), Priyanka Chopra (5'6"), Katrina Kaif (5'8.5"), Sonakshi Sinha (5'6.5"), Ajay Devgan (5'9") and more, we have come to the conclusion that Salman is not really five foot eight inches tall.
The real height of Salman Khan is
5'7" (170 cm)
Here is a photographic height comparison of Salman Khan with some other Bollywood actors like Aamir Khan, Akshay Kumar, Arjun Rampal, Amitabh Bachchan, etc, in short to tall order. If you are wondering what is that weird thing above the respected Mr. Bachchan's head, that's his peak height, i.e., how tall he used to be.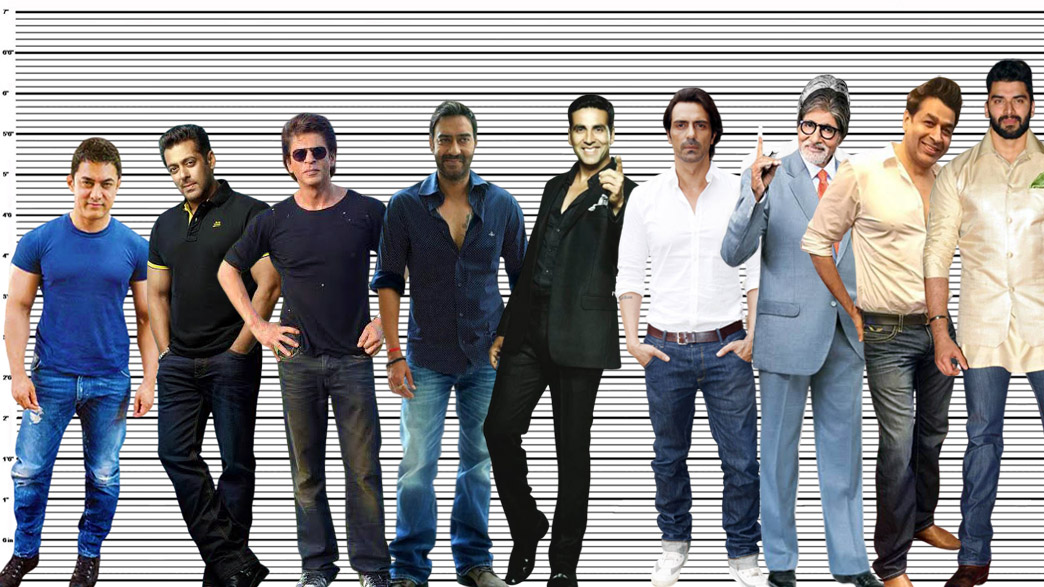 Height comparison of Salman Khan with Aamir Khan (5'5") Shahrukh Khan (5'7.5"), Ajay Devgan (5'9"), Akshay Kumar (5'11"), Arjun Rampal (5'11.5"), Amitabh Bachchan (6'2" to 6"), Rajat Bedi (6'2.5") and Nikitin Dheer (6'4")